Rainbow Six Siege's biggest tournament of the year- the Six Invitational 2022- is starting this week.
The Six Invitational is not just an esports event, it is a celebration for all things Rainbow Six. While there won't be an on-site audience due to COVID-19, Ubisoft will still organize special showmatches and online watch parties for fans to enjoy from their homes.
The Six Invitational 2022 will pit the top 20 teams across the main regions to battle it out for the title of World Champions. As announced in January, due to recent regulations and event restrictions in Quebec, Canada, the 2022 edition of the Six Invitational has been relocated to Stockholm, Sweden, where teams will compete in a LAN environment following strict sanitary measures.
Here's everything you need to know about the event:
Schedule
The event will take place at the Stockholmsmässan International Congress & Exhibition Center in Stockholm, Sweden, from February 8 to 20.
Group Stage: from February 8 to 12.
Playoffs: from February 14 to 16 and then from 18 to 19, with a rest day on February 17.
Grand Final: February 20.
TEAMS
Here are the 20 teams qualified for the Six Invitational 2022:
The following 16 teams have secured their spot in the competition by earning points in the Global Standings through the Regional Leagues and Six Majors during the season.
Team oNe Esports (Latin America)
Team BDS (Europe)
Team Liquid (Latin America)
Ninjas in Pyjamas (Latin America)
Soniqs (North America)
Oxygen Esports (North America)
FaZe Clan (Latin America)
Elevate (Asia-Pacific)
Natus Vincere (Europe)
Spacestation Gaming (North America)
Team Empire (Europe)
DarkZero Esports (North America)
DWG KIA (Asia-Pacific)
FURIA Esports (Latin America)
SANDBOX GAMING (Asia-Pacific)
Rogue (Europe)
The following 4 teams qualified through regional qualifiers:
Asia-Pacific Qualifiers: Cyclops athlete gaming
European Qualifiers: MNM Gaming
Latin-American Qualifiers: MIBR
North American Qualifiers: TSM FTX
Read More: MNM Gaming qualifies for Six Invitational 2022
COMPETITIVE FORMAT
Group Stage
Teams will be split into 4 groups of 5 teams as follows:
Teams will compete in a Best-of-3 single round robin, where every team plays against every other team in their group once. The point attribution system is as follows:
3 points for a 2:0 win
2 points for a 2:1 win
1 point for a 1:2 loss
0 points for a 0:2 loss
The top 4 teams in each group at the end of the Group Stage will advance to the Playoffs.
Playoffs & Grand Finals
The Playoffs will be a double elimination bracket with best-of-3 matches. Teams qualifying for the Playoffs will be placed in the bracket based on their seeding in the Group Stage as follows:
1st placed team in each group qualifies to the 2nd round of the Playoff Upper Bracket.
The teams that will rank 2nd in each group, will qualify to the 1st round of the Playoff Upper Bracket. They will get to pick their opponent amongst the 3rd place finishers from any group other than their own. The pick order will be determined by comparing the scores of all 2nd place finishers. Among the 2nd place finishers, the team that ranks the highest chooses first, and so on. If two 2nd placed finishers are tied in number of points, they will be seeded following the tiebreaker rules outlined in the competition's rulebook.
4th placed team goes into the 1st round of the Playoff Lower Bracket.
The winners of each match will advance within their bracket, with the loser of a match in the Lower Bracket being eliminated from the competition.
The Grand Final of the Six Invitational 2022 will take place on February 20 in a best-of-5 format with no map advantage, to crown the World Champions!
REVEAL PANELS
As a true celebration of the year of Rainbow Six Siege, we're excited to reveal what's coming next for the game and our esports scene.
Tune in on our channels and online watch parties on:
February 19 at 4:30 PM CET for the new season reveal of the game.
February 20 at 5 PM CET for the Year 7 roadmap and updates on the future of the game and its esports scene.
Talent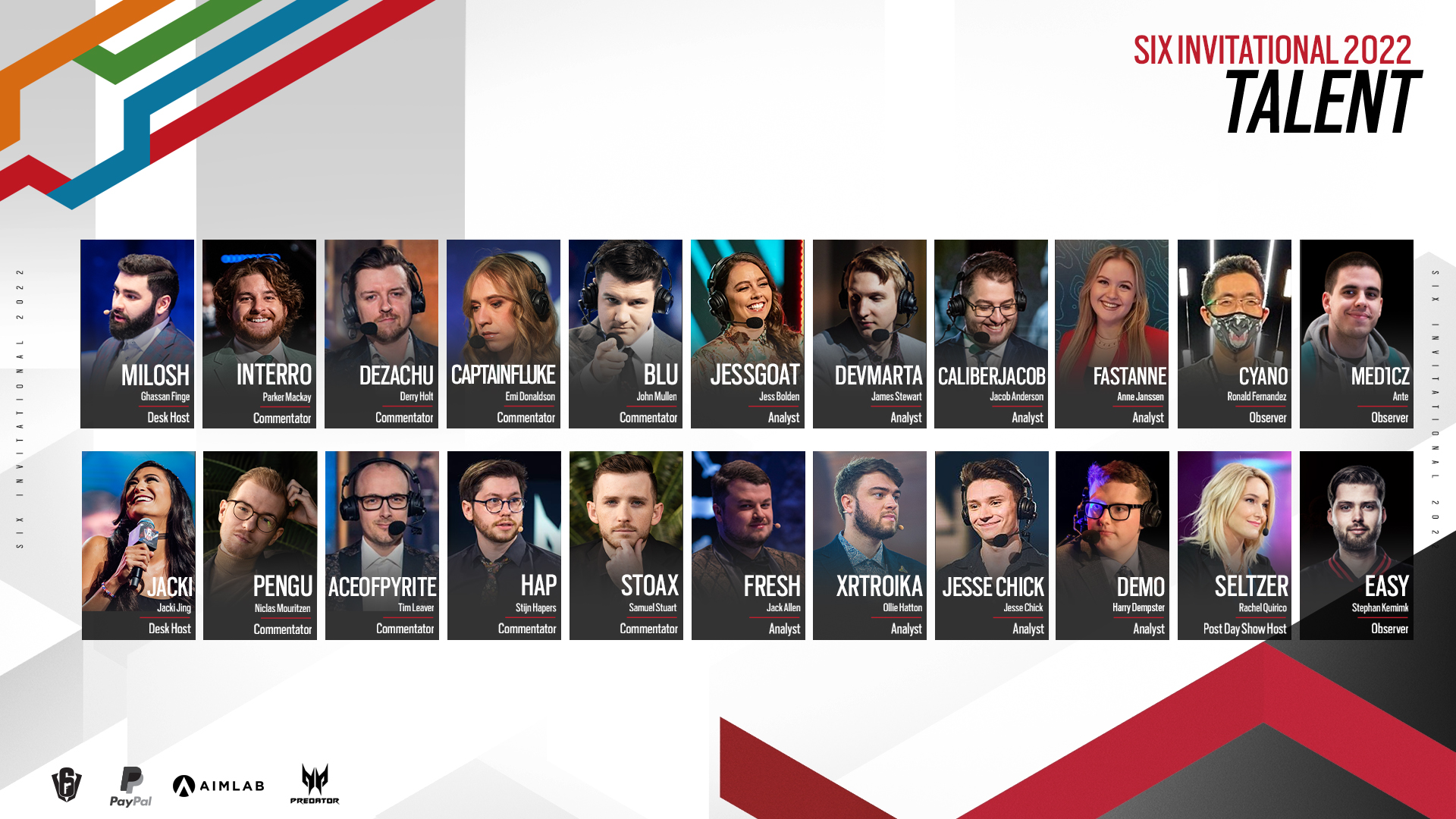 WATCH PARTIES
For the Six Invitational 2022, we are excited to introduce our online Watch Party program to provide an extra viewing experience of the competition. We worked with selected content creators and streamers to stream the matches online on their own channels for you to enjoy.
We will be sharing the list of selected content creators and streamers organizing online watch parties in the coming days on twitter at @R6esports, stay tuned!
TWITCH DROPS
For this event, we're excited to reveal new content to drop on our channels and our content creators' channels. Furthermore, we are happy to announce that duplicate items are no longer possible, and Battle Pass points will be available in our Esports Packs.
For more details on Twitch Drops, visit our detailed post here.
ROAD TO SI BATTLE PASS & PRIZE POOL
As for previous years, the Road to S.I Battle Pass is back for 2022 and available for purchase offering exclusive rewards for the Six Invitational 2022. A portion of all net revenue from the Battle Pass will directly contribute to the prize pool of the competition up to a cap of USD $3,000,000, giving you the chance to support your favorite teams and players. Any amount above the 3-million-dollar cap will be redistributed to support the Rainbow Six Esports circuit for the 2022 season.
PRO TEAM BUNDLES & WEAPONS SALE
To celebrate the Six Invitational 2022, we're happy to announce a 20% discount on all Pro-Team Bundles and Weapon Skins. The discount will be available from February 8 to 20 in the in-game store, along with a free Esports Pack when you log in.
SHOWMATCH
This year again, we are excited to have some of the finest content creators in our Rainbow Six community battle it out during the Showmatch of the Six Invitational 2022, for a charity prize pool of USD $50,000 to be donated to SpecialEffect.
The match will be pre-recorded and broadcast on stream on February 18. The ten content creators will play the new Team Death Mode as a warmup and the two Road to S.I 2022 Battle Pass maps, in an action-packed game!
Which of these two teams, representing North America and Europe, will come out victorious?
Team representing Europe:
Team representing North America:
So tune in live at Twitch.tv/Rainbow6 or YouTube on Feb. 8 to catch all the intense action from Stockholm, Sweden.
Read More: Rainbow Six Siege 'ROAD TO S.I. 2022' limited-time event is now live