Ever since the whole titanfall universe came to life in 2014, developers at Respawn Entertainment steadily sneaked in some "ruins" to signify the existence of alien life in the titanfall universe.
Since Apex Legends and titanfall are in the same universe, clues found in the titanfall series strongly suggest the possibility of aliens being available in the game in some form or another. The developers at Respawn claims that Respawn usually shuts down the alien idea as they usually don't want to go down that road.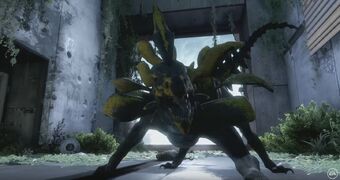 However, a recent interaction between a fan and a dev gives us strong hints that Respawn might introduce extra-terrestrial life in the Apex Legends universe in the future. The possibility of aliens somehow being an integral part of the game sounds really promising.
Respawn already added "ruins" hinting towards alien life form
In titanfall 2, level designers at Respawn sneaked in some "ruins" as a clue for Easter egg hunters. These mysterious markings can be found on some levels in the game. Even though Respawn never explicitly proclaimed the existence of aliens in the game, Apex fans are still very excited knowing there is still a good chance that they might get to see these extraterrestrial life form in some way.
Furthermore, the cancellation of titanfall 3 left a large void for fans of the titanfall series. And the recent quests are the only way for serious titanfall lore junkies to get their daily dose.
With the introduction of the broken ghost quest from Respawn, it is pretty clear that they are actively trying to bring the quality storytelling elements of the titanfall 2's single-player campaign into a battle royale game like Apex Legends. And if the recent success of the quests is any indication, Respawn might already be working on the next quest for the upcoming season 6 of Apex Legends.