Respawn tends to make significant changes to maps with each seasonal update to spice things up for players in Apex Legends.
A good example of that would be when Respawn actually removed fan-favorite Skull Town from the Kings Canyon map, as it was overshadowing their effort to create more creative places for players to enjoy in the game.
In addition to all the character-themed town takeover events, seasonal map updates often come with so much change, both visually and functionally, that they sometimes change player's play patterns. And it always becomes a point of contention among the community.
A recent leak from a pretty prominent data miner in Apex Legends' data mining scene suggests Respawn might be planning to give Kings Canyon another overhaul. As with each new update with Apex, the data miners usually start to dig through the game files to find something interesting.
More Related: Apex Legends Fight Night: Respawn reverts back Caustic buff over 'concerning' patterns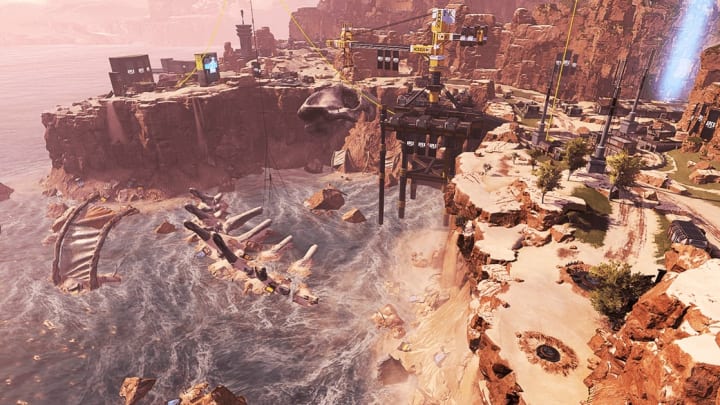 Kings Canyon Overhaul Season 8
And as it turns out, there are some strings in the game files that hint at another map update for Kings Canyon. There is a good possibility that fans will be able to witness these changes within season 8.
However, take them with a grain of salt, as these are all still leaks. Respawn usually likes to work ahead of time to avoid a crunch during the last few weeks before release. So, these changes mentioned in the game files might not arrive as soon as fans of the franchise might want. Furthermore, things can still change at the very last moment.
More Related: Apex Legends 'Fight Night' Pathfinder bundle: release date across different time zones, kill equip, skin, gun charm
Despite all that, another map overhaul for Kings Canyon sounds really exciting. Exactly how it will look is really hard to tell from the mere strings found in the game files. Based on their previous map-related updates, we can all still hope they might add another place like Skull Town in the future.
Update: Kings Canyon received a massive update with Season 8: Mayhem when Fuse entered the Apex game. Hence, the leaks were true.