League of Legends: Wild Rift Regional Closed Beta returns October 8, and here's everything you need to know about the new Ranked system.
League of Legends: Wild Rift is Riot Games' newest title for both the console and mobile users releasing later in 2020. But in the meantime, Riot to continue its Regional Closed Beta for players in the Philippines, Indonesia, Malaysia, Singapore, and Thailand, including players from South Korea and Japan starting from October 8.
And now, Wild Rift's game designer Ed "MartianSpider" Knapp has revealed some more information about how the rank system is going to work in League of Legends: Wild Rift and what are differences players can expect from the PC's League of Legends.
Ranked Tiers
Wild Rift's ranked tiers will be the same as League of Legends having ranks from Iron to Challenger. However, in Wild Rift, there will be a new tier called Emerald between Platinum and Diamond. Furthermore, Diamond and below are further subdivided into four divisions like Bronze IV- Bronze I.
IRON
BRONZE
SILVER
GOLD
PLATINUM
EMERALD
DIAMOND
MASTER
GRANDMASTER
CHALLENGER
Placement Games
Everyone in Wild Rift will enter the season as "unranked" and upon completing the first 10 Placement games you will be awarded a new rank based on your performance.
From Iron–Emerald
In the first six tiers, all wins and losses are weighed equally with Ranked Marks, while exceptional performance is rewarded with Ranked Fortitude.
Ranked Marks

Ranked Marks are the indicators around players ranked tier portrait that tracks progress through each division. Winning earns a Mark while losing removes one (except in Iron and Bronze).
Players will need more Ranked Marks to climb divisions at higher tiers, so climbing from Platinum to Emerald will take a LOT longer than hopping from Iron to Bronze.
Most ranked games obey a simple zero-sum game model:
| | |
| --- | --- |
| Victory | +1 Ranked Mark |
| Defeat (Bronze–Iron) | No change |
| Defeat (Silver–Emerald) | -1 Ranked Mark |
Ranked Fortitude
Win streaks are rewarded with Ranked Fortitude. Earn enough ranked fortitude can prevent players from losing a Ranked Mark in defeat. Furthermore, earning even more players will be able to score TWO Ranked Marks from a win.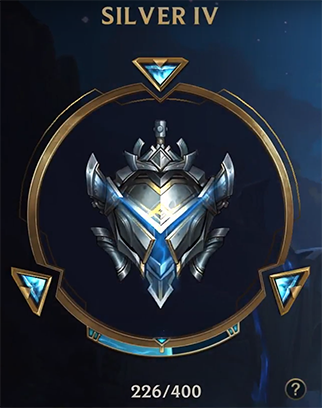 The better and more honorably players play, the faster they will fill the Fortitude bar, which has a different cap for each tier:
| TIER | FORTITUDE CAP |
| --- | --- |
| Iron | 200 |
| Bronze | 300 |
| Silver | 400 |
| Gold | 600 |
| Platinum | 800 |
| Emerald | 1000 |
From Diamond–Challenger
Unlike Iron–Emerald, players from Diamond–Challenger will be rewarded with Victory points.
Victory Points
Just like Ranked Marks, Victory Points are distributed at the end of a ranked match. However, the number of Points players win or lose is determined by a variety of factors, including the overall skill level of players on both teams.
Players must gather 100 Victory Points to climb through each division of Diamond. The Master tier and beyond still make use of Victory Points, but the ranking system itself changes to accommodate this highly competitive level of play. Unlike Ranked Marks, Victory Points will begin to decay if players are inactive for too long.
Promotion Series
Similar to League of Legends, in Wild Rift, there is a Promotion Series series for climbing from one division to another. However, there will be no inter-division placement in Wild Rift, meaning you will not need to play promotion series for climbing from Silver 3 to Silver 2. Here's how they work:
Iron–Bronze: 2 wins = success! 3 losses = failure.
Silver–Diamond: 3 wins = success! 3 losses = failure.
Master–Challenger: No promos required!
Solo/Duo/Trio Queuing
In Wild Rift, full teams will always be matched against other teams of five. And mixed team sizes will be optimized by Riot's algorithm to match teams with equal power meaning the majority of cases teams will have the same comp.
"No need for a double (or triple!) take, you read that right—you can queue up for ranked games with parties of one, two, or three!" Riot Games said. "In an effort to further streamline the mobile League experience, we've consolidated all of Ranked into a single queue and boosted the maximum party size to three."
Champ Bans, And Position Select
Instead of position select, Riot will optimize their matchmaker to build teams with as wide a mix of preferred positions as possible. Behind the scenes, it's constantly looking at where you play, and putting teams of different preferred positions together.
"We think getting into the game quickly is super important for Wild Rift, but if the matchmaking system isn't performing up to snuff, we will make changes to hit the position and champion agency you expect," Riot Games said.
Wild Rift's Ranked mode will not have any kind of banning system like League of Legends. Riot said the champion pool is currently too small therefore they don't want to ruin the " fun and competitive ranked experience."
Players will be able to enjoy the new ranked system in Legends: Wild Rift starting October 8.