League of Legends' Howling Abyss – ARAM is getting a VFX update on patch 11.8 that should make Poro-Snaxes much cuter, and Snowball should now be a bit easier to read.
Riot has constantly been pushing Visual Effects (VFX) updates in League of Legends. Since last season, even though, most of the VFX updates were about champions, this time League's ARAM is getting a little bit of VFX love in patch 11.8 according to Sr VFX Artist Kevin "Sirhaian" Leroy.
From patch 11.8, League of Legends players will now actually be able to throw a poro-snax to the closest poro. According to Riot Sirhaian, all the VFX about poro feeding have been "cleaned up and modernized". Moreover, poros are also getting "cute SFXs" that will have constant hearts following them after feeding.
One of the most popular Summoner Spell in ARAM, the Snowball, is also getting a clear VFX update on patch 11.8. Snowball's effect should now feel a bit more "modern and readable." The spell should now also have two separate effects for hitting and missing.
ARAM's relics are getting "cleaned up a bit," removing some very old healing assets. Furthermore, the respawn effect is also getting a modern look.
ARAM VFX Changes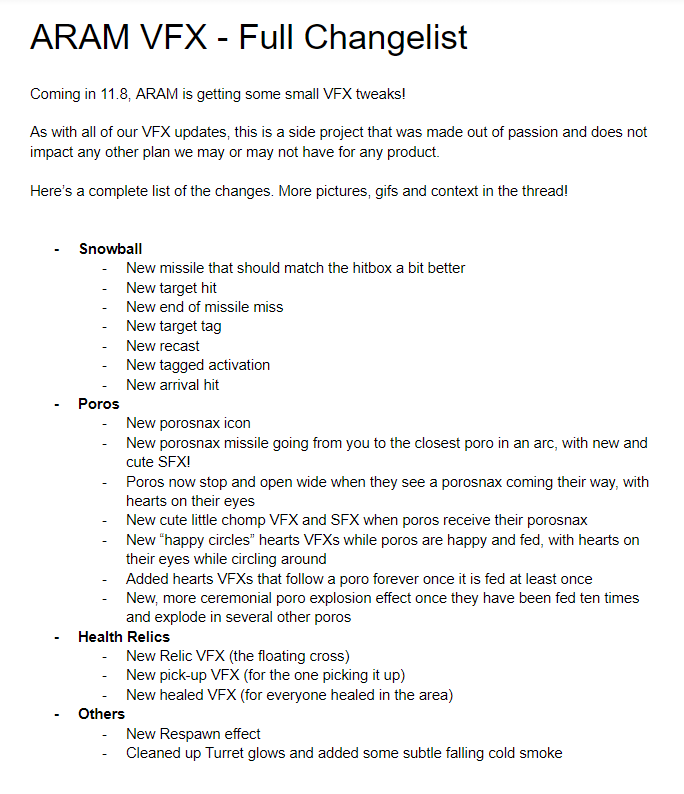 Howling Abyss (ARAM) VFX update is expected to hit the PBE in the next few days and will go live on patch 11.8, which is scheduled for Apr 14, 2021.