Rainbow Six Siege, a tactical first-person shooter developed by Ubisoft, has experienced tremendous growth throughout the years that it has existed. The FPS game has recently kicked off its Year 8 with Operation Commanding Force, and the latest operator to join Team Rainbow is Brava.
Brava hails from Brazil and joins the Attackers as part of the Viperstrike squad, the high-performance, jack-of-all-trades crew led by Hibana.
She is a 3-speed, 1-armor operator and is currently one of the unique support operators in the game. You can unlock Brava for 25000 Renown or 1200 R6 Credits.
Here's everything you need to know about this operator.
Brava Operator Guide
Biography
"Sometimes the only path to justice is through a bullet…"
Brava's childhood was impacted by the untimely death of her cousin, an innocent bystander in a heist gone wrong. The criminal involvement in the event motivated Cardoso to pursue a degree in law. Her inability to effect significant change within the system as a criminal prosecutor left her disillusioned and prompted her to join the Departamento de Polícia Federal (DPF).
As an Agent de Polícia Federal, Cardoso combated interstate and federal crime, eventually becoming a Federal Police Commissioner. She commanded investigations, issued warrants, and following a special recommendation from the DPF, moved to Brasilia to apply to the Comando de Operações Táticas (COT). After completing the 18-week air, amphibious, and riverside operations training course, Cardoso joined the COT's high-risk interventions unit.
Brava's specialization in resolving civil aircraft hijackings brought her to the attention of Captain Yumiko "Hibana" Imagawa, but it's her stellar performance record that earned her a place in Viperstrike.
"Brava knows the cost of pulling the trigger like few others do. Yet throughout it all she remains an idealist, which make missions like Operation [REDACTED] exact a hard toll on her. There is an old saying in Kyūdō, "Shooting with technique improves the shooting, but shooting with spirit improves the person." Brava does all the personal and professional work required to transcend her personal preferences and be decisive in the field. The squad will benefit from someone that shoots with spirit.
It will be important to keep an eye on her relationship with Capitão. He seems to want to bond with her, but she shuts him out. When I asked about it, she told me that "personal relationships are distracting," but that hasn't stopped Brava from developing a friendship with Jäger over their shared enthusiasm for aircraft. I will let it lie so long as it doesn't bleed into our operation performance." — Captain Yumiko "Hibana" Imagawa, Viperstrike Squad Leader
Best Weapon Loadout
Primary Weapon: PARA-308 (ASSAULT RIFLE), CAMRS (MARKSMAN RIFLE)
Secondary Weapon: USP40 (Handgun), Super Shorty (Shotgun)
Secondary Gadgets: Smoke Grenade, Claymore
Unique ability: KLUDGE DRONE
Brava has two options for her primary weapon: the PARA-308 Assualt Rifle (same as Capitao's) and the CAMRS DMR (same as Buck's). The Para-308 AR is one of the most underrated guns in Rainbow Six Siege. This Assault Rifle doesn't have the highest rate of fire, but it can land a severe blow on its enemies with damage stats of 47. Pairing it with the Extended Barrel attachment can increase this damage further to 52, making it a fierce option. We recommend the 1.5x sight with vertical grip and flash hider attachments for this weapon.
On the other hand, the CAMRS DMR can also be a viable option. The weapon can deal 69 damage with a single shot to the body, so you can most likely 2-shot (killing with only 2 bullets) an enemy using it. The DMR has the option for 3x scope and all other magnified scopes below it, but we will suggest using the 1.5x or 2x for easier handling.
So which gun should you pick? Here the choice is up to the player, as your playstyle will vary greatly depending on your chosen weapon. The Para-308 AR will allow you to take gunfights more flexibly, from short, medium and even longer distance gunfights. However, with the DMR, you can hold longer angles more easily and landing those 2/3 shots can quickly get you a kill.
For her secondary weapon, we highly recommend bringing the Super Shorty shotgun, as you can create lines of sight, play vertically, and maybe even use it for close-range fights.
Secondary Gadget
Brava's two choices for the secondary gadget are the Claymore and Smoke Grenade. Now, the choice is entirely upon your preference and the game plan for that round. The Claymore can be useful for covering flanks, while the Smoke can come in handy in late rounds for planting the defuser. So check what your teammates are picking and adjust accordingly.
Unique Ability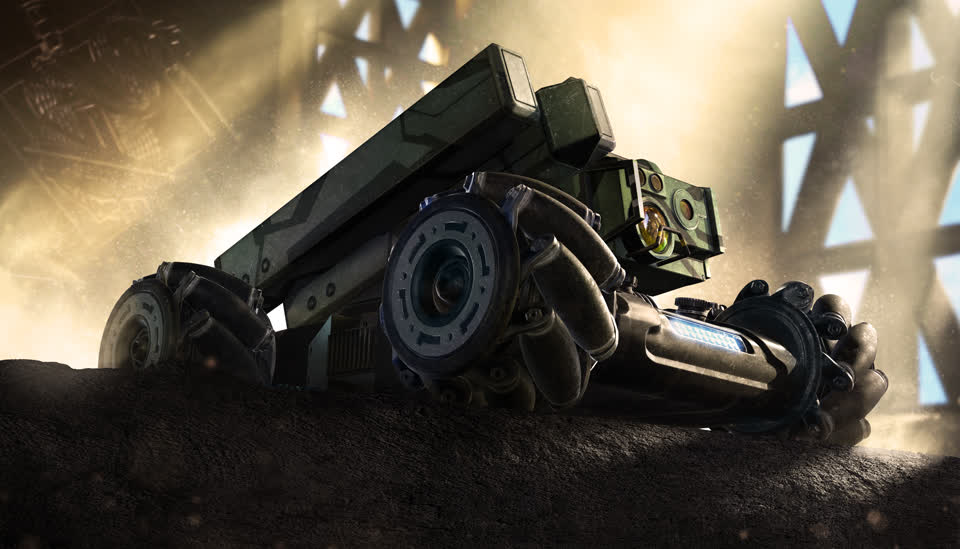 Brava's primary gadget is called the Kludge Drone. This is a unique drone that Brava can deploy from her pocket, and its main function is to hack the defender's electronic gadgets. Rainbow Six Siege already has many different kinds of drones in the game, some are used for intel only, and some, like Twitch's Shock Drone can be used to destroy gadgets. Brava's Kludge drone can be used to steal defender's devices and switch them to be used for the attacking side.
The Kludge drone can remotely compromise enemy electronics, resulting in either their destruction (such as Thunderbird's Kóna Stations or Bandit's batteries) or a change in their allegiance. Using the drone, you can aim at the defender's electronic gadgets, such as Maestro's Evil Eyes or even default cams to zap and initiate a hack from a distance. But you have to remain within the range of the gadget to start and fully complete the hack, which takes around two seconds.
The outcomes of this alteration can range from straightforward, such as granting Attackers default camera access or switching the effects of a Kapkan trap so only defenders will activate it when they cross the sensors, allowing for some hilarious content. But the drone can do more, like allowing Brava to control and share Echo's Yokai drone or retrieve a Mozzie-hacked drone. Therefore the possibilities are endless with the Kludge Drone. Brava's hacks create disruptions and pose significant threats.
Brava has 2 of these drones in her arsenal, so use them wisely. The drone's size is a little bigger than the usual Attacker drone, so make sure to hide it from plain sight. Each drone will be able to zap and hack three gadgets. After getting hacked by Brava, the compromised device will have a blue, glowing light to alert the defenders.
Tips and Tricks
Using the drone, you can destroy Kaid's Electroclaws or Bandit Batteries and help to breach the walls or hatches.
IQ can pair well with Brava, as she can ping the defender gadgets for Brava to then hack quickly.
Using your normal drone to check for Mozzie pests and Mute jammers and then deploy the Kludge drone to start hacking.
How to counter Brava?
Brava's gadget is a drone, so it can be countered in several ways, similar to how an average Attacker drone can be countered. The first obvious way to block the Klude drone is using Mute's jammer, but make that the drone cannot get close and hack the jammer.
Mozzie pests are also a great option to deal with Brava's drone, as Mozzie can get complete access to the Kludge drone after hacking it himself. And then, using the hacked Kludge drone, Mozzie can alter the Attacker's electronic devices, such as Nomad's Airjabs or Claymores and surprise the Attackers. Solis is also a good option to detect Kludge drones and destroy them.
Should you pick Brava?
Brava is a powerful support operator who can play a vital role in any team. After hacking, the Kludge drones can be used to provide additional intel to your teammates, whether for covering flanks or live-droning for your entry-fragger. So we highly recommend picking Brava for your team composition.