In the Ubisoft Forward post-show today, Ubisoft has revealed the new set of streamer charms as well as the community artist bundle that will be introduced with Rainbow Six Siege Y6S2 North Star.
As usual, Ubisoft is adding new streamer charms to the game at the beginning of a new season, and this time it will feature yoboyRoyGaming, MagnetR6, and CCSesports.
Etienne "Mag" Rousseau is an Australian professional player for Fnatic, who has been in the APAC R6 scene for a long time now. Mag brought a lot to the Siege community with his personality and skills, and his fans will surely be delighted to grab his special in-game charm.
Yoboyroy has been creating Siege content since the very early days, and this content-creator from Spacestation gaming will now receive his unique charm.
On other hand, CCS is a bit different from the other individual streamers. CCS stands for Cyberathlete Championship Series, and they host esports league for beginner Rainbow Six Siege pro-players. Ubisoft will now be honoring their work by introducing a CCSesports in-game charm.
Fans can easily get these charms by subscribing to the respective streamer's Twitch channel with a linked Uplay account. For more detailed info on how to claim the charms visit here. Once a user has claimed a streamer charm, it will stay in the account for good, even if they unsubscribe from the streamer's channel later on.
COMMUNITY ARTIST BUNDLE PROGRAM Y6S2: SUNSTARK
Last season, Ubisoft introduced the first community-designed operator bundle, which was created by SAU_SIEGE for Caveira. For Y6S2 North Star, Ubisoft will once again partner with Prime Gaming to launch a new bundle created by artist Sunstark for the operator Lion.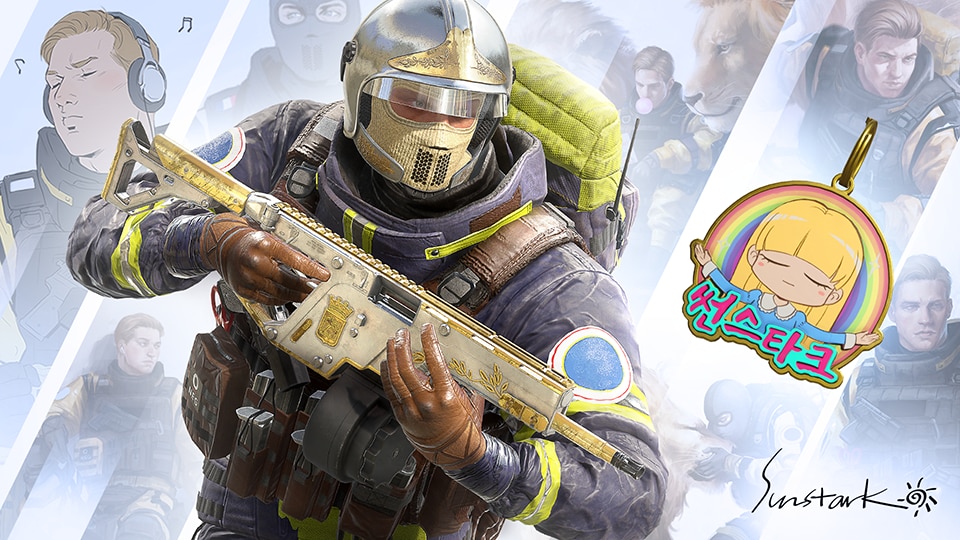 The Sunstark Operator Bundle will become available through Prime Gaming starting from Thursday, June 17th. Make sure to claim it once it's live, as it will be available for a limited time only.
Rainbow Six Siege Y6S2 North Star will be releasing on June 14th, so stay tuned for the latest updates.