Ubisoft's latest free-to-play Battle Royale game "Hyper Scape" which was revealed three days ago has recently gained a lot of attraction on Twitch and other gaming platforms.
Hyper Scape adds a unique twist to the BR scene and separates itself from other titles with its distinctive virtual city of Neo Arcadia, a set of unique abilities called "Hacks" and special integration with Twitch.
The game is currently on closed Technical Test beta available only on PC. But the beta is limited to only certain countries in the following list: Austria, Belgium, Canada, Denmark, France, Germany, Ireland, Italy, Netherlands, Norway, Portugal, Spain, Sweden, Switzerland, United Kingdom, and the USA.
However, if you have enjoyed the gameplay and can't wait to try out this game then the follow these steps to access the game:
How to access Hyper Scape closed beta
1. First, you'll need to link both your Twitch and Uplay accounts. You can enable drops from here.
2. Watch Hyper Scape Twitch streamers, who have Twitch drops enabled for a chance to get a drop.
3. If you are lucky you should get the Technical Test access drop after watching streams for about an hour or two.
4. At this step, you will need a VPN software to change your location to one of the countries that have access to the closed beta. So, download Uplay and log-in to your account using a VPN.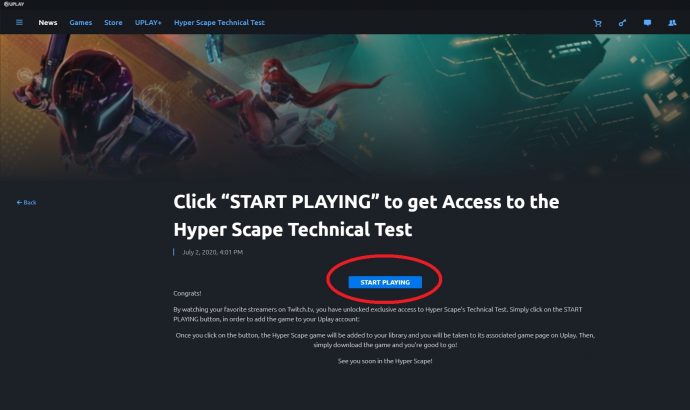 5. Head over to the news section and click the Hyper Scape banner to start playing. This will link the game to your Ubisoft account and once it is linked then you can stop the VPN.
The game can then be downloaded and played without using a VPN, but as the servers are only in NA and EU the latency will definitely be high. Ubisoft doesn't recommend this method to play their games, so try this at your own risk.
Your progress from the Technical Test period will be transferred to the live game when it launches. So this is your chance to unlock some free rewards from the battle pass. Hyper Scape closed beta will end on July 8th and the full release is supposed to be on July 12th.
Read More: Ubisoft's "Hyper Scape" already has features that Rainbow Six Siege has been lacking since Day 1