A Twitch streamer called Shulyyyyyy was recently banned for flashing while using a Spongebob picture as a cover.
Darya, more commonly known online as "Shulyyyyyy" is a Russian Twitch streamer and internet personality. Her Twitch channel has more than 96k followers and averages around 280 viewers per stream. Shulyyyyyy's Twitch channel is ranked #559 among Russian channels and #7759 overall. She usually streams in the Just Chatting category while occasionally streaming games like Dota 2 and various other games. She is also very active on Instagram and Onlyfans.
During Shulyyyyyy's recent stream, she did something against Twitch's TOS that got her banned from the streaming platform.
Read More: Twitch Streamer and OTK Founder Asmongold Stole a Bag of Masks from a Hospital
Shulyyyyyy Banned:
A Twitter Bot called StreamerBans recently published the news of Shulyyyyyy's ban. According to the StreamerBans website, this is her 7th ban on Twitch. She has been banned five times in 2021 alone, but the duration of the ban was 2-4 days each time.
Reason for Shulyyyyyy's Twitch Ban:
During Shulyyyyyy's January 28 stream, she put a picture of Spongebob in front of her and then took off her clothes behind it. The top of the streams showed a donation bar and the text "Remove the Spongebob". The donation progress bar had a goal of 20,000 Ruble, implying that she would remove the picture of Spongebob after reaching that goal.
Soon afterward, Shulyyyyyy got the ban hammer, and the stream ended. But, she managed to reach the donation goal and even crossed it by 200 Ruble. But, for obvious reasons, we cannot share the video or clip from her recent stream.
Shulyyyyyy Responds:
Shulyyyyyy later responded to her ban, saying,
"Ban 3 days!
This was the best stream ever!!".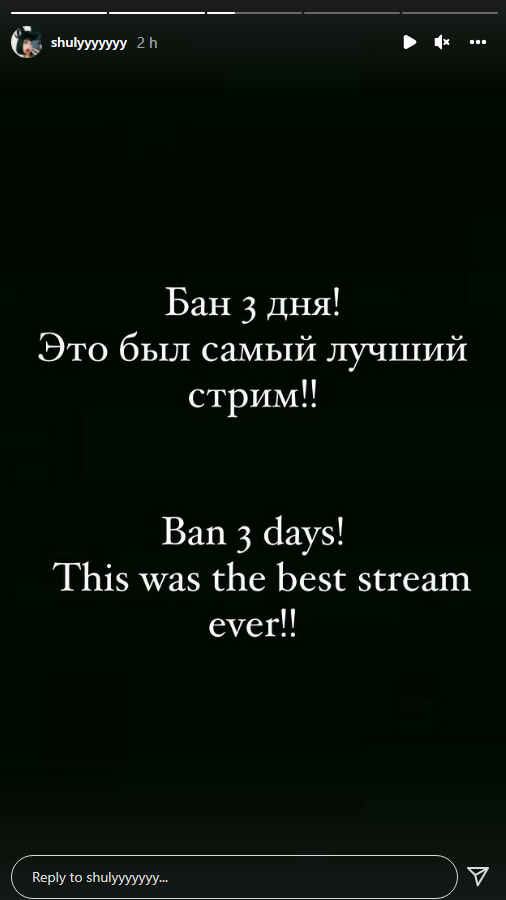 From her response, it seems like she isn't too bothered by her recent Twitch ban.
Read More: Twitch Streamer Sodapoppin Responds to Viewers Asking if He is Dating VTuber VaiBae