Ubisoft's tactical shooter Rainbow Six Siege has grown massively over the years. The game had reported over 75 million registered players back in July, and more players are still joining every day.
To make lives a litter easier for new players, we've prepared a guide on one of the most popular and powerful operators- Thatcher.
The SAS operator of Thatcher has been with Team Rainbow since it launched back in 2015. Over the years, Thatcher has consistently remained at the top with his strong utility and gunpower. Here's everything you need to know to get started with this 2-Speed 2-Health Attacker.
Thatcher Operator Guide
Best Weapon Loadout
Primary Weapon: AR33 (Assault Rifle), L85A2 (Assault Rifle), M590A1 (Shotgun)
Secondary Weapon: P226 MK 25 (Handgun)
Secondary Gadgets: Breach Charge / Claymore
Unique ability: EMP GRENADE
Thatcher has a wide option for her primary weapon of choice, which includes the AR33, L85A2 Assault Rifles, and the M590A1 shotgun. Taking the shotgun will massively limit your long-range gunfight abilities, so either of the Assault Rifles should be the primary pick.
Both the Assault Rifles have similar damage stats; however, the AR33 has a greater rate of fire, which can be useful to land that important headshot. And with his higher fire rate comes a higher vertical recoil, but it is easy to get used to even with the recommended Angled grip option.
But, for beginners, we will suggest using the L85A2 as it has a very stable recoil pattern, greater magazine size, and a relatively low rate of fire, making it one of the easiest guns to use.
Thatcher only has one option for his secondary weapon, which is the P226 MK 25 pistol. As with most secondary pistols, it will get the job done, when you are out of ammo on your primary gun during a fight.
Secondary Gadget
For his secondary gadget, Thatcher can pick either Breach Charge or Claymore. Here the choice is up to you, as on certain rounds, you might decide to bring Breach Charges, and on others, a claymore might come handier.
Unique Ability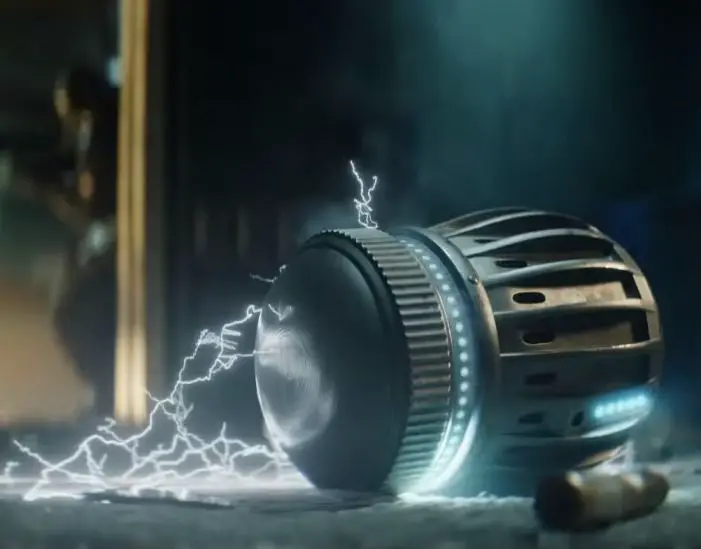 Thatcher's unique gadgets are called "EG MKO-Emp Grenade", or commonly known as EMP, and he has three of them in his arsenal. As the name suggests, this grenade produces an electromagnetic surge that can disable electronic gadgets within its radius. The EMP has a radius of 5.2 meters, and it can pass through hard surfaces.
During Operation Shadow Legacy, the behavior of Thatcher's gadget was reworked to disable all electronic gadgets, instead of destroying some and disabling others. So all defender electronic gadgets within its radius will be disabled for 10 seconds. Defenders' gun optics such as Red dot, Reflex, and Holographic sights are also deactivated if they are within the radius.
However, Thatcher is mostly picked to aid in hard-breaching walls, which means his EMP grenades are mainly used to disable Bandit Batteries, Kaid Electroclaws, and Mute Jammers. So, after this breach-denial utility is disabled, the Hard-Breacher gets a small time window to breach open the reinforced wall or hatch. This method to clear wall-denial is very reliable and quick, which is why you will see Thatcher banned in most of your ranked matches.
Should you pick Thatcher?
Thatcher is one of the most important support operators on the attacking side. So we highly recommend you bring this operator alongside your Hard-Breacher like Thermite or Ace for increased synergy.
Tips
(i) Thatcher's EMP grenades are zapped by Jager's ADS and Wamai MAG-nets will catch them, but it will still explode.
(ii) Maestro's Evil Eyes can be temporarily disabled with the EMP grenades, which also open its bulletproof glass, allowing you to shoot and destroy it permanently.
(iii) If there are no wall-denial operators, then use your EMP grenades near the objective entrance, as it will disable all traps and allow you to push site freely.
(iv) Communicate with your Hard-Breacher accurately; you wouldn't want to spawn at the opposite of the map from where your Hard-Breacher is.