Genshin Impact developer Mihoyo recently revealed the upcoming v2.3 Albedo and Eula rerun banner characters along with the weapon banner.
November 24th is the day Genshin Players will finally get new content after waiting for more than a month. Genshin Impact v2.3 update will bring new quests, events, character banners, free weapons, New artifacts, and more.
The 1st part of v2.3 will be particularly interesting because of the Albedo questline and the dual banner. Recently Mihoyo announced that a new type of banner will be coming to Genshin Impact called the "Character Event Wish 2". These banners will appear periodically and exist simultaneously along with the "Character Event Wish" banner and even share pity.
In Genshin Impact v2.3 we will finally see and understand how this new banner will affect us and our wallets. The Albedo and Eula simultaneous banners will be the 1st in Genshin's history when two event wish banners are running at the same time.
Albedo and Eula Banner Rate Up Characters:
Recently Mihoyo announced the rate-up characters for the upcoming Eula and Albedo banners. The banners will run at the same time and also end on the same day. The Albedo and Eula banner rate up characters are-
Bennett(4* Pyro Sword)
Rosaria(4* Cryo Polearm)
Noelle(4* Geo Claymore)
Both the Eula and Albedo banners will have the same 4* rate up characters and they will share pity.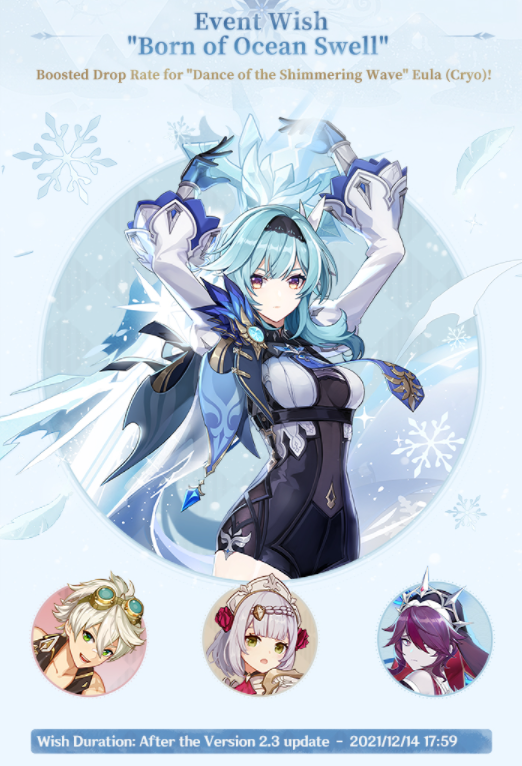 Genshin Impact v2.3 Weapon Banner:
Mihoyo also revealed the 1st weapon banner of Genshin Impact v2.3. This banner contains-
Freedom Sworn(5* Sword)
Song of Broken Pines(4* Claymore)
Wine and Song(4* Catalyst)
Alley Hunter(4* Bow)
Lioan's Roar(4* Sword)
Sacrificial Greatsword(4* Claymore)
Dragon's Bane(4* Polearm)