A recent leak has revealed some very crazy and interesting supposed events, skins, and mechanics for Fortnite Season 8.
Fortnite Season 7 is currently 57% complete with 57 days remaining. The new season has been popular among a large portion of the player base. Epic has added slight map changes, revamped crafting, and frequent new items which is the main catalyst for the popularity.
Even with all this time left for Fortnite Season 7 we already got some pretty crazy and unbelievable leaks for the upcoming Fortnite Season 8. Recently a supposed Fortnite insider shared some leaks and also apparently showed video evidence of these leaks.
Below you can see a compilation of all the leaks related to Fortnite Chapter 2 Season 8 and beyond.
Read More: Fortnite Season 7 Week 6 Alien Artifact Spawn Locations
Fortnite Chapter 2 Season 8 Leak:
The insider shared the leaks with a moderator from r/FortniteLeaks. This same insider apparently was correct about a lot of things about previous Fortnite Seasons. The leak talks about the following things coming to Fortnite Season 8-
"Ariana Grande will be coming soon and will have a in-game concert(Concert has already had a test launch done by staff at Epic)
Members of the Justice League & Suicide Squad will be added to the game(Don't know which characters will be added/characters still being cleared by legal)

Wasn't sure if Batman Who Laughs will be added, but didnt rule it out

Epic is currently trying to get Naruto for Season 8 Battlepass

Season 8 will include a explosive kunai weapon

Upcoming Seasons/Chapter News

The Cube will be return at the end of Season 7(Controlled by unknown Queen character that will play a part in Chapter 3)
Chapter 3 will redesign the map completely
Location of the Seven will be revealed in Chapter 3
Season 8 will include someting called "The Sideways" (Similar to the Stranger Things/Will release monsters into the game)
Ridable Monsters/Mechs will come to the island at some point(Probably not this season)"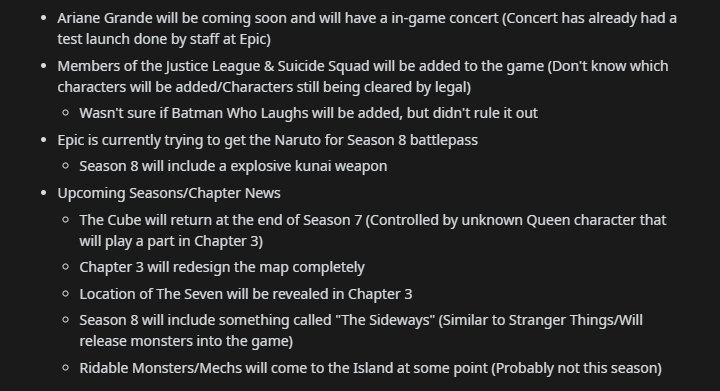 If we are getting an Ariana Grande Concert then there is a high probability of also getting her skin in the game as well. Justice League and Suicide Squad skins might when the new "Suicide Squad: Kill the Justice League" game drops in 2022.
Popular Fortnite leaker ShiinaBR claims to receive video evidence from one of the r/FortniteLeaks moderators of the private conversation with the supposed insider.
As always take all of this information with a grain of salt as these are subject to change upon final release.
Read More: Fortnite Season 7 Week 6 Legendary Quest Full Guide