The Six Invitational 2021 is approaching us quite swiftly. SI 2021 will be the fifth edition of the biggest Rainbow Six Siege tournament, featuring the top 20 teams in the world competing against each other with millions on the line.
In Rainbow Six esports, the Six Invitational is the ultimate tournament for all the teams around the world. It's a festival for all the Siege fans, as they come together to celebrate all things about Rainbow Six Siege. In the end, we get to see the best team lift Sledge's Hammer in front of the whole crowd.
Spacestation Gaming was crowned as the world champions in 2020. However, in 2021, the race is wide-open for every team. Although the global pandemic has put a stop to the LAN tournaments, the show still continued with online regional tournaments.
Teams that have qualified for Six Invitational 2021
There are 20 spots available at the Six Invitational 2021. The top 16 teams with the most points in the Global Standings will directly qualify for the Invitationals. With the LATAM, EU, and NA Major now being concluded, we have the 12 teams that have secured their place for SI 2021.
Six Invitational 2021 Global Points standings
But there are still 4 spots available in the top 16th position of the table. And with the upcoming APAC November Six Major starting soon, there's a lot at stake for teams all around the different regions.
Jesse Chick, on-screen analyst for NAL, did the math for the SI points available and shared all the possibilities that can take place after the APAC Six Major.
Which teams can still qualify for SI 2021?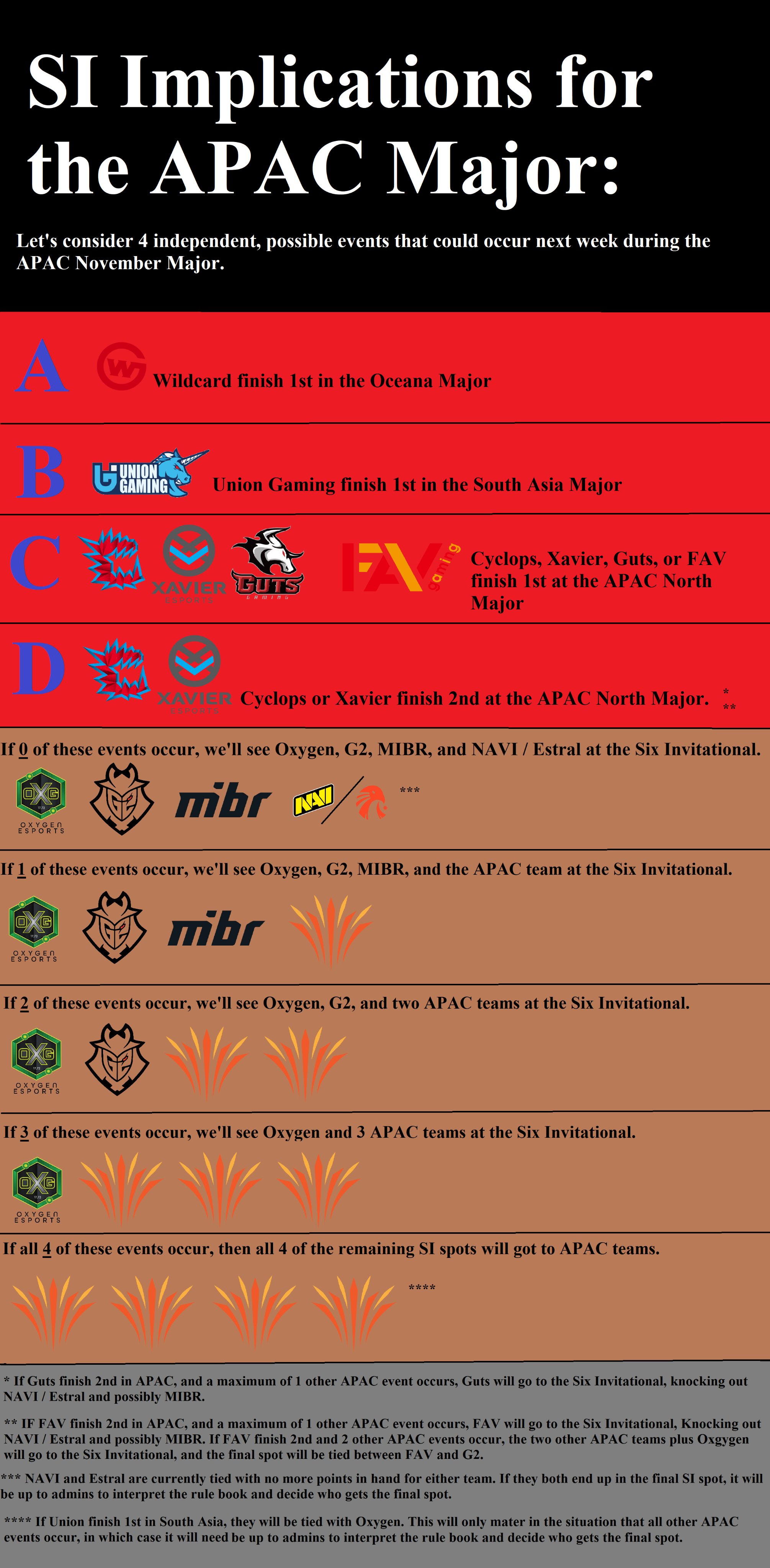 According to his calculations, if the four events labelled A, B, C, D occurs then Oxygen Esports, G2 Esports, MIBR, NAVI/Estral all will fail to directly qualify for the Six Invitational 2021.
However, there are still some asterisks. If Union Gaming finishes 1st in SA, then they will tie with Oxygen Esports with 550 points each. And as reported by Jesse Chick, the admins will then interpret the rule book and decide who gets the final spot.
Apart from the Global Points table, four other teams can also make it to the Invitationals through the regional qualifiers, but it surely will be more difficult and riskier.
In the end, it will be a tough fight for all the teams involved. The Six Invitational 2021 is expected to take place again in February. If we will be able to see the return of LAN plays is still a question, with the COVID-19 vaccine still not coming out to the public.
But if it does take place, we will surely be in for a treat, watching the best teams from different regions go head-to-head against each other.
Stay tuned for more information about the SI 2021.