VALORANT is an upcoming free-to-play 5v5 tactical shooter from the developers of League of Legends.
In one word if CSGO and Overwatch had a baby it would look something like VALORANT. Although VALORANT has more in common with CSGO than one might think. Yes, there are abilities in VALORANT but most of them aren't as prominent as they seem. Good mechanical skills will outplay these abilities most of the time.
Talking of weapons, most of them are heavily inspired by CSGO. VALORANT is in its closed beta right now. So for new players who were lucky enough to get access to the beta through Twitch drops then this tier list is tailor-made for you. Having said all that this list is based upon the impression of the closed beta. As these weapons get Buffs or Nerfs this list will also be updated in the future.
Read More: How to refund in-game contents after buying in VALORANT
S-tier
Operator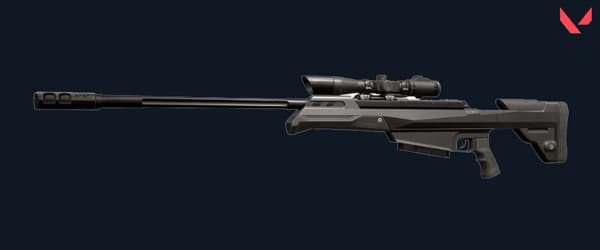 The Operator sits at the top of the weapon food chain in VALORANT. If you are familiar with CSGO's AWP then you already know what it is. This is by far the best sniper in the game. This is a one-shot kill weapon for most situations with great wall penetration. The operator can easily turn the tides of the battle in your favor with some good flick of the wrist.
Vandal
Vandal is the equivalent of AK47 in VALORANT. This is a great weapon for the late game after you have enough credit to buy it for yourself or your squadmate. It deals great damage to the body, especially on armored folks, also has good wall penetration. Vandal hits hard with strong recoil. It is one of the better full-auto rifles out there if you aren't as comfortable with an Operator.
Phantom
Phantom is also a great contender for full auto weapons other than the Vandal. It even has a higher firing rate than the vandal. Most of the damage numbers are almost the same as the vandal. Like vandal, it also hits hard with even more unpredictable recoil to master. This is a trade-off for this gun as it has a better firing rate than the Vandal but as a result, has a bit more kick when it comes to the recoil. Wall penetration is good on both the phantom and the vandal.
Spectre
In the current state of the game, Spectre is the best SMG in the game. It has the highest firing rate among all the other weapons in the game. Spectre is viable for almost all states of the game. Wall penetration for this gun is medium but among other SMG's it is great.
A-tier
Sheriff
Sheriff is the deagle equivalent for VALORANT. It has a crazy high wall penetration and headshot damage number. This is a great option if you want to run an economical round. Those with good aim will use this weapon to show off their crazy flicks.
Marshal
Marshal is just a budget Operator for those economical rounds. Never the less it has decent wall penetration and damage for a sniper. It will get the job done if there are still not enough credit for an Operator.
Guardian
Guardian is a great option for those players who don't like to control the recoil pattern of full-auto weapons but has a really good aim. This is a great option for those players. It has great headshot damage numbers. In most situations, it is a one-shot to the head weapon. With medium wall penetration, this is a great choice for deagle lovers from CSGO.
Ares
Ares is the best option when it comes to shooting enemy agents through the wall as it has a really high wall penetration. Along with a big magazine, Ares deals decent damage to the body. It is a great option if you are not that comfortable with your ability to click heads at will.
B-tier
Stinger
Stinger is the best budget SMG in the game as it costs only 1000 credits. With a decent fire rate and damage at close quarters, this is a great option for early rounds. Since it has a really low wall penetration numbers, it won't be a great choice for shooting other enemy agents through the wall.
Bulldog
Bulldog is also a good option for a budget full auto replacement for both vandal and phantom. It has a good balance of fire rate, wall penetration, and damage. This is a well-balanced option for a full-auto weapon that doesn't cost as much as the other good options.
C-tier
Bucky
Bucky is definitely one of the better shotguns in VALORANT. While overall shotguns aren't as good as other auto or one tap weapons in this list, Bucky is definitely a viable option. It has good damage numbers up close and a decent headshot damage number.
Judge
Judge is also a good alternative for Bucky. Even though it deals less damage than Bucky, it makes up for it by having a better firing rate. This is also a viable option other than Bucky. It is decent up close and can wreak havoc among enemy agents at close quarter fights.
Odin
Odin is the only heavy LMG weapon in the game. It has crazy high damage and wall penetration. To counter its huge magazine size with these high damage numbers, Riot decided to give it the worst recoil that was possible. So, yeah it is really difficult to control. On the right hand, it has the potential to do a 1v5 with one clip.
Ghost
Ghost is a great alternative to the Sheriff. While it doesn't have the same amount of wall penetration and damage numbers, it makes up for it by being a stealth killing machine. It is a silent type sidearm with medium wall penetration and good headshot damage.
D-tier
Classic
Classic is a decent starter weapon for the first round. It is a pretty well-rounded for the early game fights as it has good headshot and body damage numbers. Along with ok wall penetration for a sidearm, it is a great choice for early rounds if you are trying to be economical.
Frenzy
Another alternative to the Classic would be a Frenzy. With a better firing rate, it might be another good option for early rounds. The only advantage it has over the classic is its firing rate. On the other hand, it costs around 400 credits while the classic is basically free.
E-tier
Shorty
Shorty isn't a good starting weapon as it deals less damage to both the head and the body than the other starting options. It deals less damage to all other starting weapons in VALORANT. While this might change in the future if Riot ever decides to shack things up. Right now though this isn't a good option.
F-tier
Tactical Knife
Tactical Knife has the worst damages numbers compared to other weapons in the game. Even then most of the time it isn't one swing and a kill situation. You would have to strike them twice to be really effective. It is only good for trolling your enemies as you sneak behind them to get that sweet knife kill.
Read More: VALORANT's anti-cheat starts upon computer boot but is does not collect or send any data, confirmed by Riot
This tier list is gonna be an ever-evolving list as Riot Games decides to change the damage number for those weapons. So, some of them may get a promotion up the list while other weapons might get a demotion. This list will be updated as soon as VALORANT gets new weapon patches.