In an unbelievable series, Team SoloMid (TSM) slayed the giants Spacestation Gaming (SSG) to win the NA November Six Major.
In the best of five grand finals of the NA Mini-Major, TSM beat SSG without losing a single map and takes the NA 'Mini-Major' trophy.
As the NA Mini-Major was taking place in a LAN environment this time, SSG were one of the big favorites to win this tournament. And they did show their strength by qualifying for the Grand Finals through the winner's bracket, beating DarkZero and TSM in the process.
DarkZero Esports, the reigning August Major champions weren't looking the best coming to this tournament, with their fragger Hyper going through some medical issues. But DZ's team synergy was still strong, as they eliminated Oxygen Esports in the loser's bracket.
TSM on the other hand were quite underestimated by their opponents. They managed to kick out DZ from the tournament in the loser's bracket finals with a 2-0 scoreline, meaning a new team was to be crowned the Major champions.
This also meant a rematch between TSM and SSG was awaiting in the Grand Finals. Coming to the finals from the winner's bracket, SSG already had one map advantage in the BO5 finals. However, with a surprising turn of events, TSM managed to come back from a deficit by beating SSG 7-5 on Clubhouse, 7-2 on Consulate, and 7-5 on Villa. Hence winning the series with a 3-1 scoreline, and without even dropping a single map.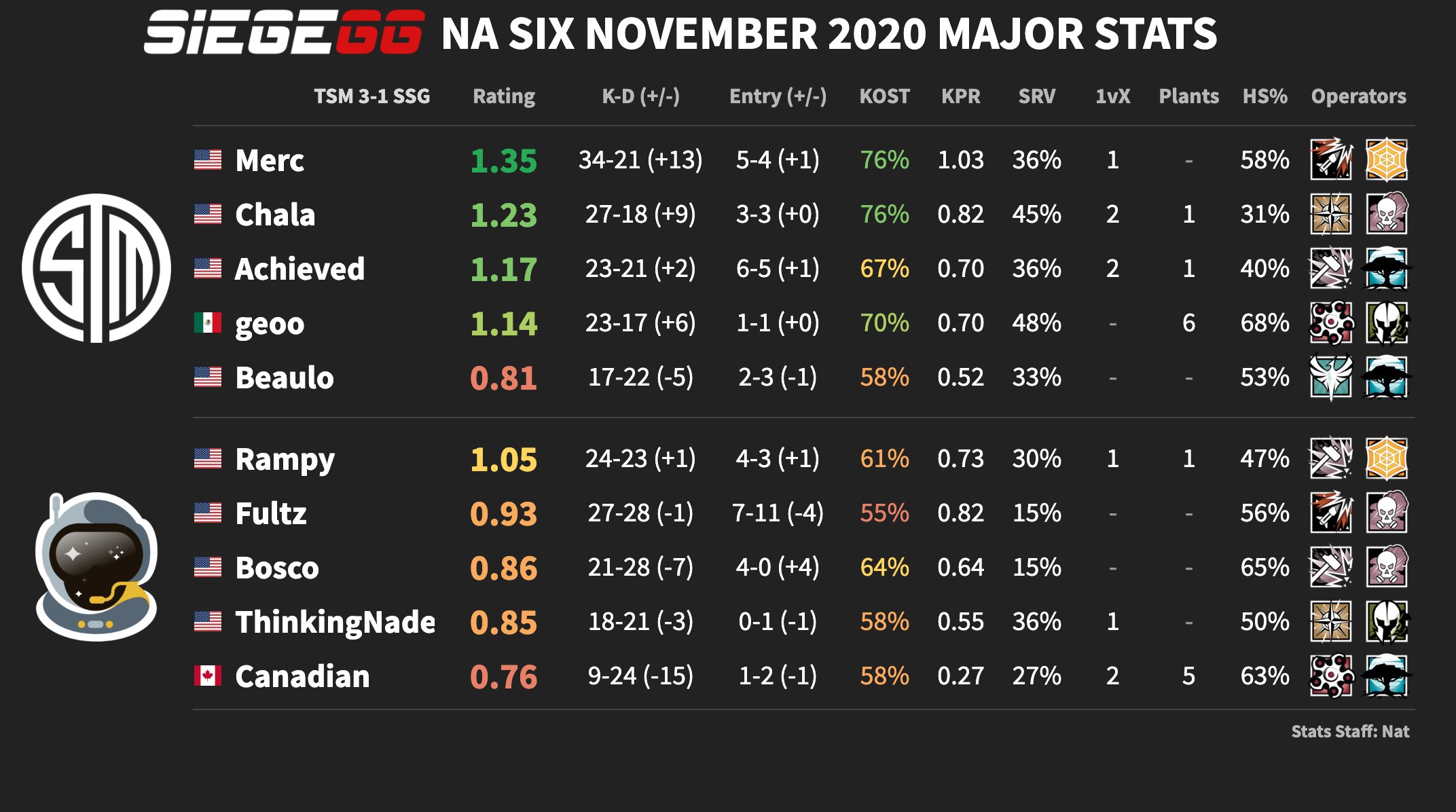 After failing to reach the August Major finals, TSM manages to win their 1st big tournament since Dreamhack Montreal in 2019. This 3-1 victory means TSM will be taking the $62,500 winner's prize and 285 SI points, securing the tied (with BDS) 1st placed spot in the SI Global standings and guaranteeing their place for the Six Invitational 2021.
And if TSM manages to keep this form, they might have a good chance to lift the hammer in the Six Invitational stage. But with Operation Neon Dawn releasing soon, there might a huge meta shift in the game, so we'll have to wait and see how that pans out for all the teams.