Team Empire is back on the crown, beating the August Major Champions BDS Esport in a convincing manner to win the EU November Six Major.
In the best of five grand finals of the EU November Major, Team Empire thrashed the French team with a decisive 3-0 scoreline and taking the EU 'Mini-Major' title.
The French team of BDS Esport coming to this tournament were the favorites to win the November Major, as their dominant form continued from the last August Major. On the other hand, Team Empire were working hard to find their groove back, as the last time they won a Major was back in Raleigh 2019, where they ended G2's dominant reign.
Team Empire went to the finals through the winner's bracket by beating BDS. However, BDS did pull it back by advancing to the grand finals through the loser's bracket, which meant a rematch was awaiting for both the teams. But, Team Empire saved their best performance for the last, as they overpowered BDS Esport and brought down the titans, who were looking almost unstoppable in recent competitions.
Coming from the winner's bracket, Empire already had one map advantage in the BO5 finals. And in the Grand Finals, Team Empire beat BDS 7-3 on Villa and 7-2 on Coastline, winning the match with a 3-0 scoreline. With an exemplary performance throughout the whole tournament, Dan was awarded the MVP of the EU November Major.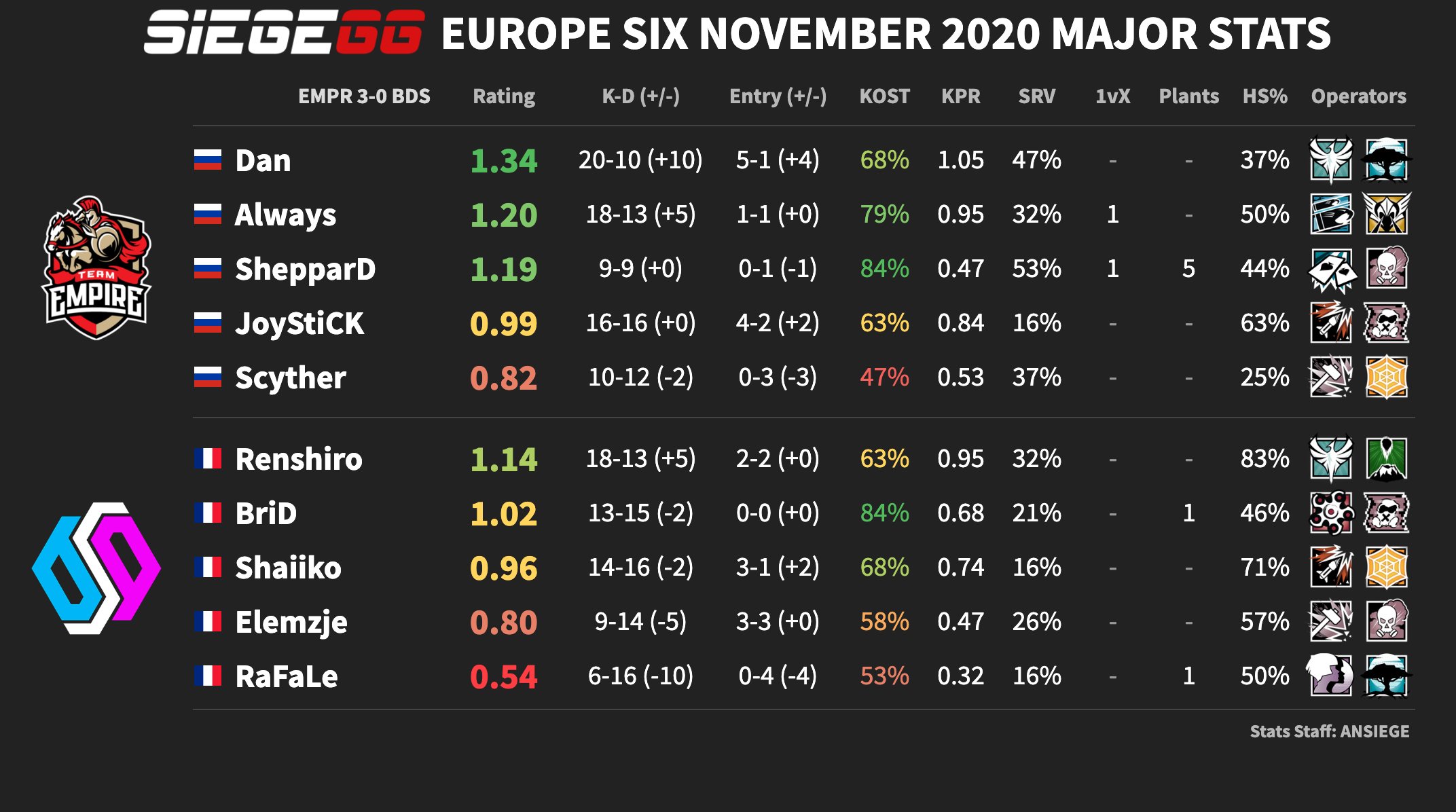 This 3-0 victory means Team Empire will be taking the $62,500 winner's prize and 285 SI points, securing the top 16th place in the SI Global standings and guaranteeing their place for the Six Invitational 2021.
And finding their winning form back, the Russians are once again looking like an EU giant and a very strong contender for the Invitational in 2021. But, we'll have to wait right now to see who lifts the hammer.
The European Finals start sometime in December, but Team Empire, unfortunately, won't be there. But we'll still get to see plenty of action from the other teams, and there might be a huge meta shift by that time with the introduction of Operation Neon Dawn.