With the release of Overwatch 2 drawing closer, we get a first look at the new Bastion, his reworked abilities, and also some huge buffs for Sombra.
Earlier today in a Developer update, Director Aaron Keller revealed the new look of Bastion as well as the reworks in store for him for Overwatch 2. Along with that, Sombra is also getting a rework to get her in tune with the gameplay dynamics of Overwatch 2.
Bastion Rework
Bastion is getting a new stylish look for Overwatch 2. We all know our lovable Omnic from Overwatch 1 as a rough janky robot. As Character Design Artist Arnold Tsang explains, Bastion has been made sleeker and modern looking while still keeping his janky nature.
According to the Game's lore, Bastion has befriended Torbjorn and his new Swedish friend has given him multiple upgrades. Bastion in Overwatch 2 also has Torb's cap making him a bit more approachable as well as solidifying his friendship with Torb.
Furthermore, Bastion got reworked abilities for Overwatch 2. He is getting a mobile sentry mode and a revamped Ultimate ability.
Bastion Rework Full Details: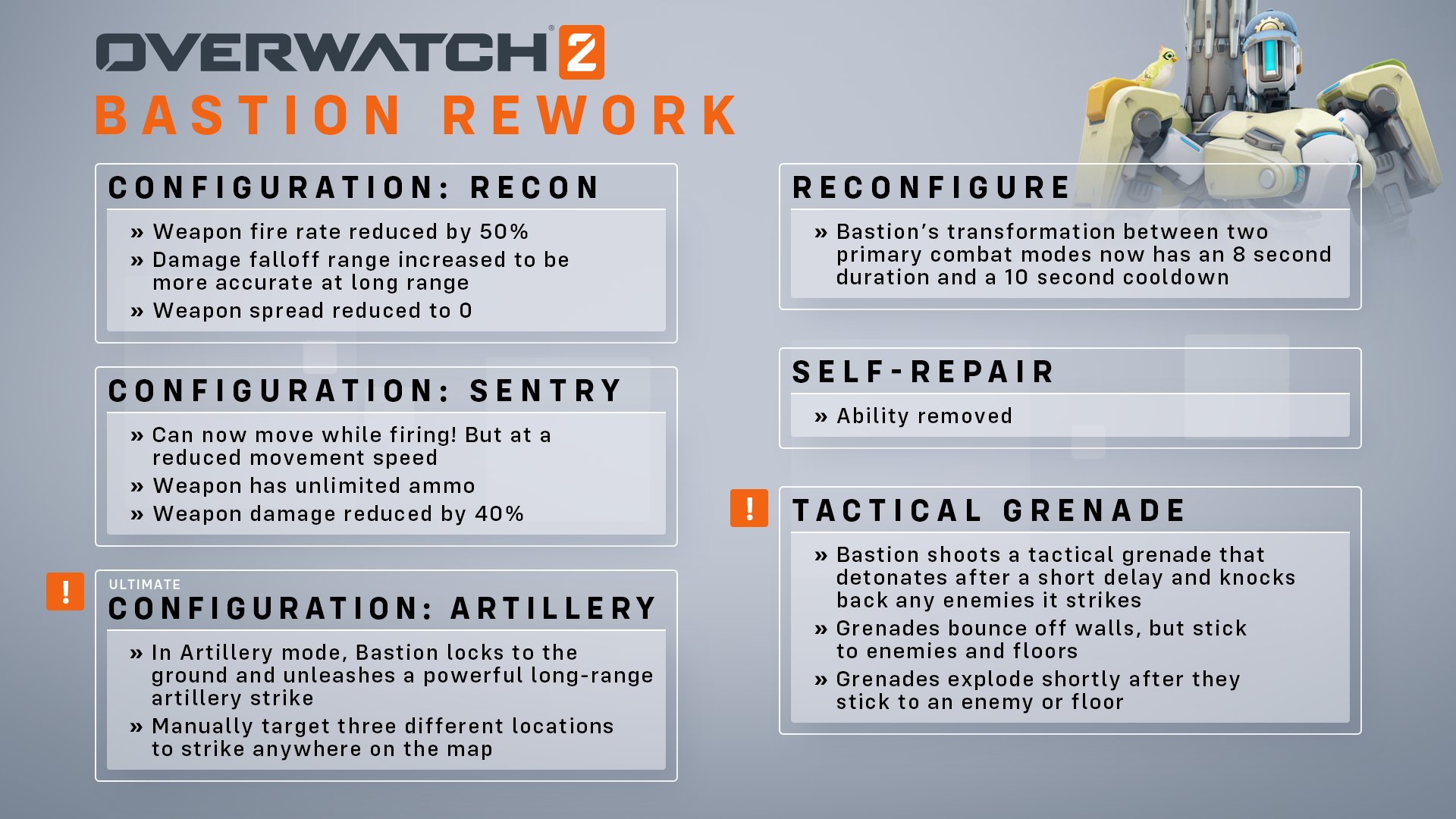 Sombra Rework
The devs wanted to make Sombra more in tune with the reworked heroes for Overwatch 2. She has gotten some insane buffs including more damage done to hacked targets and being able to hack while invisible. These updates two by themselves make Sombra an extremely potent flank hero.
Lead Hero Designer Geoff Goodman has explained about her new rework in a Developer update. Her CC abilities have been traded off for more damage output. Her hack has an insanely reduced cooldown, can be used without deactivating stealth, and gives her more damage on a hacked target. She also has a 12.5% reduced damage but the 20% spread reduction more than makes up for it. These together make her an extremely effective flanker for Overwatch 2.