After three action-filled playdays, the South Asia Nationals 2021 Stage 1 has come to an end, with MercenarieZ successfully defending their throne.
It has been a wild ride for MrcZ's Rainbow Six Siege squad, from almost not qualifying for the closed qualifiers to now winning the grand finals. But at the end of the day, the results matter, and MercenarieZ have exactly achieved that by beating KIRA E-Sports 3-1 in a best-of-five Grand Final.
The South Asia Nationals 2021: stage 1 started on April 16th, with the 8 teams from the open qualifiers competing in a Double Elimination (bo3) format. Virtual 5 and Endangered Esports were the first two teams to qualify for the closed qualifiers, and unfortunately, they were also the first ones to get eliminated from the tournament.
MercenarieZ, the tournament favourites, looked strong as they swiftly made their way onto the finals through the upper bracket. However, unlike the last Nationals, their run to the Grand Finals wasn't flawless, as they fell behind in both the semi and upper bracket finals but later managed to turn it around.
The Grand Final of the Nationals saw a rematch of KIRA E-sports vs MercenarieZ from the upper bracket finals, but this time MrcZ had a one map advantage. And this lead was extended, with MrcZ winning 8-6 on Villa. But KIRA attempted to make a comeback as they took a 7-4 victory on MrcZ's map pick- Coastline, leading to a 2-1 overall score.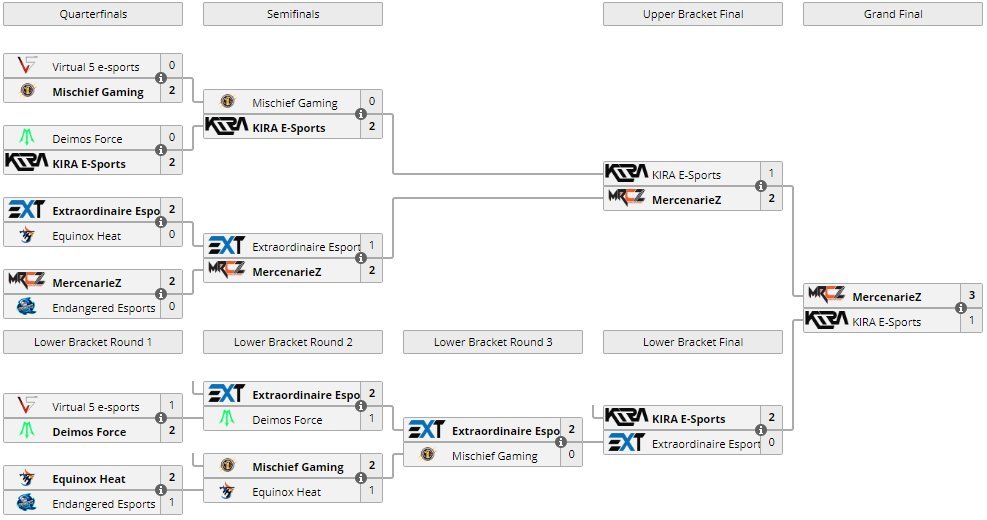 MercenarieZ showed their dominance as they rolled over KIRA 7-1 on Clubhouse, ending the game and the tournament with a 3-1 victory. MercenarieZ remains undefeated as they increase their SA Nationals win tally to three.
Both MercenarieZ and KIRA E-Sports have secured a place in the APAC Playoffs, where they will go head-to-head against the second to fourth-placed teams in APAC North and South. These eight teams will be competing in a double-elimination tournament for a total $43,250 prize pool and a share of 1265 SI Points.
KIRA E-Sports will be facing CYCLOPS athlete gaming in the quarter-finals, while MercenarieZ will go against the Australian squad of Pittsburgh Knights. The APAC Playoffs will start on April 23rd, and you can watch the matches live on Twitch and YouTube.