Apex Legends Limited-time game modes have seen their fair share of ups and downs. But this time Respawn has decided to go all out on this one.
This new LTM is called Grand Soirée and its gonna come out with some banger event. While the previous event has some interesting limited-time game modes. But not all of them have receives the same amount of love from fans. While other modes like Solo and Duo game modes have been received somewhat positively.
SEVEN different game modes
The previous events only had one new game modes to keep players interested. Respawn has thrown everything under the kitchen table this time around. There will be seven different game modes this time. All these LTM will have only be available for 2 days.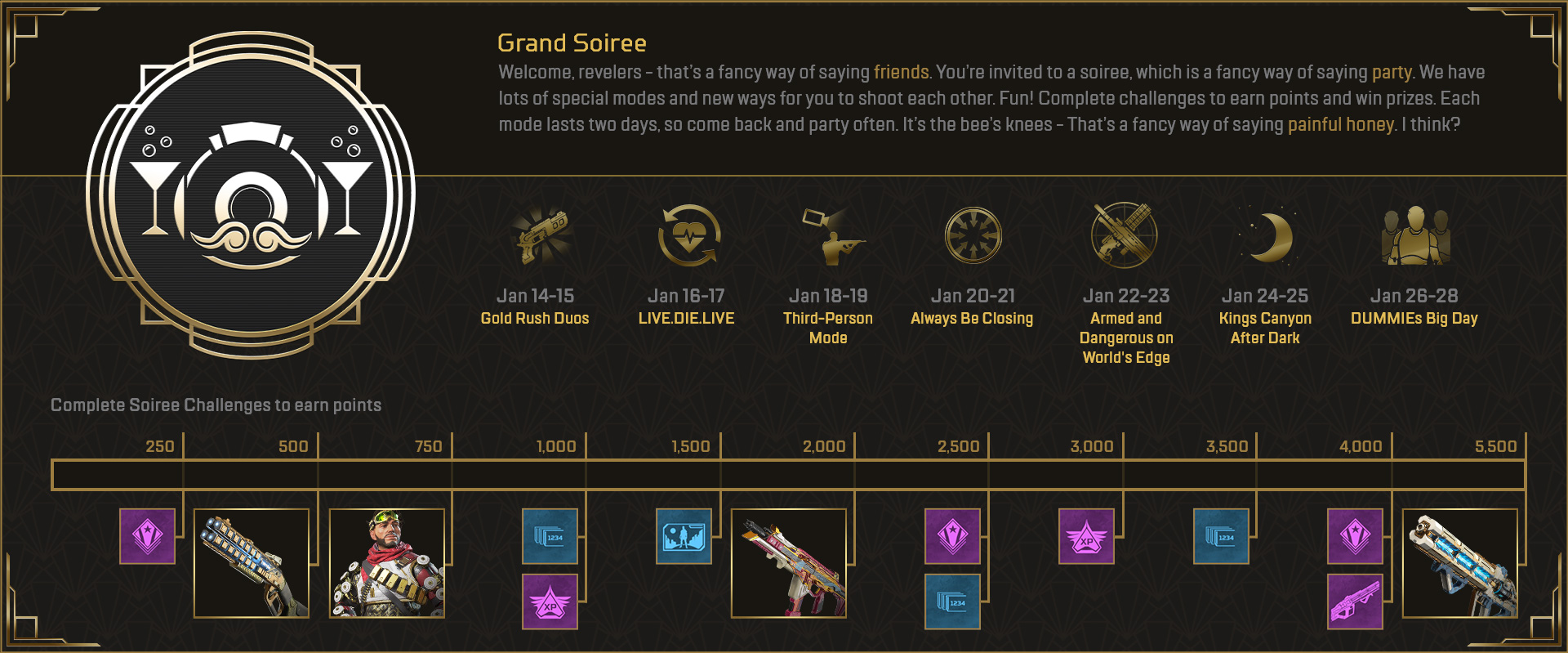 Every other day there will be a new game mode to play. Looks like this time around there will be at least one game mode that you might like.
Related news
Gold Rush Duos
The duo is back with a bang. From Jan 14-15 you will be paired up to fight against your adversaries. But the twist is there will be only fully decked out Legendary weapons available in the game mode. So, you will be dead in one or two heat at most. It is gonna be fun for a quick game session.
LIVE DIE LIVE
In this mode, Live Die Live: you will be Automatically spawned on living squadmates when the ring closes. You will always have to be moving and the ring won't slow down. Looks like this mode will be a free for all mode.
Third Person Mode
We all fantasized about this mode not gonna lie. How Apex might look in the third person perspective. There was even an easter egg in the training mode for this one. While most of us won't want to play third-person mode all the time for obvious reasons "balance". But this will be a fine addition to the game modes.
Always Be Closing
This mode will feature an always moving zone. If you couldn't tell from the title. Keep on the move, avoiding big damage from a ring that won't slow down.
Armed and Dangerous on World's Edge
Shotguns and sniper rifles with limited armor. If you liked the previous armed and dangerous mode from the previous event then this game mode is tailor-made for you.
Kings Kanyon After Dark
All those OG players who are upset with the new map. And think that Kings Kanyon is just the best thing Apex Legends has created than boy Respawn has some good news for you. But same with the Halloween event this time the map will be centered at night. Scull town here we come.
Dummies Big Day
For those who wanted a PVE experience in Apex Legends then this game mode will definitely satisfy you. You will fight against these AI dummies. This was also for foreshadowed in an easter egg months ago.
This event will also have some dope ass skins to collect with the level progression system.
New Skins
You will also be able to buy these skins directly from the skin shop. There will be an opportunity for you to score more points during the bonus scoring weekend from January 17 at 10:00 a.m. PT and runs until January 20 at 10:00 a.m. PT. Also, there will be lot of bug fixes and other improvements in the game.
This is by far the most packed event in apex by far. This event will definitely turn some heads.