In a completely one-sided final, DarkZero Esports dominated TSM to become the NA Six August 2020 Major Champions.
The Six August 2020 Major also being called as the 'mini-major' started in the NA region on August 14th, where the top four teams from the North American League competed against each other to earn precious SI points for a chance to qualify for the Six Invitational 2021.
The current Six Invitational champions, Spacestation Gaming were the favorites to grab the August Major title. However, DarkZero Esports, a team which almost didn't make it through to this tournament had something else to say, as they defeated SSG 2-1 in their first match and marched ahead into the upper bracket semi-finals.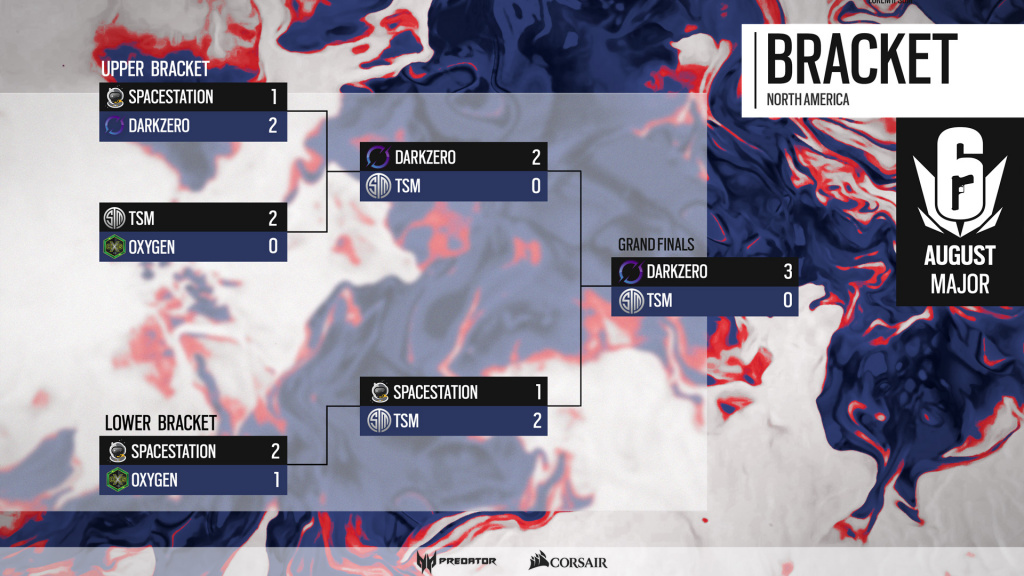 Although Spacestation Gaming tried to make a comeback by defeating Oxygen, they were later stopped in their tracks by TSM, who managed to grab their last chance to qualify for the Grand Finals.
DarkZero eventually met TSM again in the Grand Finals for a rematch, after TSM had received a 2-0 blow in the earlier stage. TSM did manage to get ahead in the first half of the opening map, but they were met with a huge comeback from DZ, who won 5 rounds in a row and eventually the map.
DarkZero went 2-0 up, as they already had a 1 map advantage, coming from the winner's bracket. And they exactly proved why they were in the winner's bracket, as they managed to overpower TSM in the second map with a 7-2 scoreline, winning the Grand Finals with a clean 3-0 score.
Prize Pool
DarkZero Esports will be claiming their share of $62,500 from the total prize pool. But more importantly, they will be receiving the 510 Invitational points, putting them one step closer to qualify for the next Six Invitational.
This team from DarkZero has been in the competitive Rainbow Six Esports scene for a long time now. And finally, DZ earned this Major title, after failing to reach the finish line multiple times. But now they proved that they are not a team to be messed with and deserve their place with the best teams in Rainbow Six esports.
Ubisoft also revealed the latest season update Operation Shadow Legacy, where we see Sam Fisher joining Team Rainbow as a playable operator, along with exciting new gameplay features.
The EU Six Major will be the final tournament of this Six August 2020 Major, which will kick off on Friday August 21st. So keep following us for the latest updates.
Read More: Sam Fisher joining Rainbow Six Siege in Operation Shadow Legacy