BikiniBodhi, one of the most popular Rainbow Six Siege content creators, was permanently banned a couple of days ago due to cheating. However, it was someone else who got into BikiniBodhi's account and deliberately used hacks to get him banned.
BikiniBodhi has now made a YouTube video, explaining what happened to him and that no player should ever have to face anything like this.
On July 29th, BikiniBodhi realised that his account got hacked, when Zironic messaged a screenshot of their DMs, where we see the hacker using the 'n'-word. Later, he found out out through his email that he was permanently banned due to cheating.
But BikiniBodhi's account didn't actually get hacked in the first place, rather it was given away thanks to a Ubisoft support agent. The "hacker" just had to simply ask the support agent to update Bikini's email address. However, the support agent did ask for a receipt of a steam purchase for verification, where the hacker just used a forged steam receipt with incorrect information.
Unfortunately, the support agent didn't feel like cross-checking this information and just updated the email address of BikiniBodhi's Uplay account. The agent even removed the 2-factor authentication without any security-checks. Check out the full conversation down below: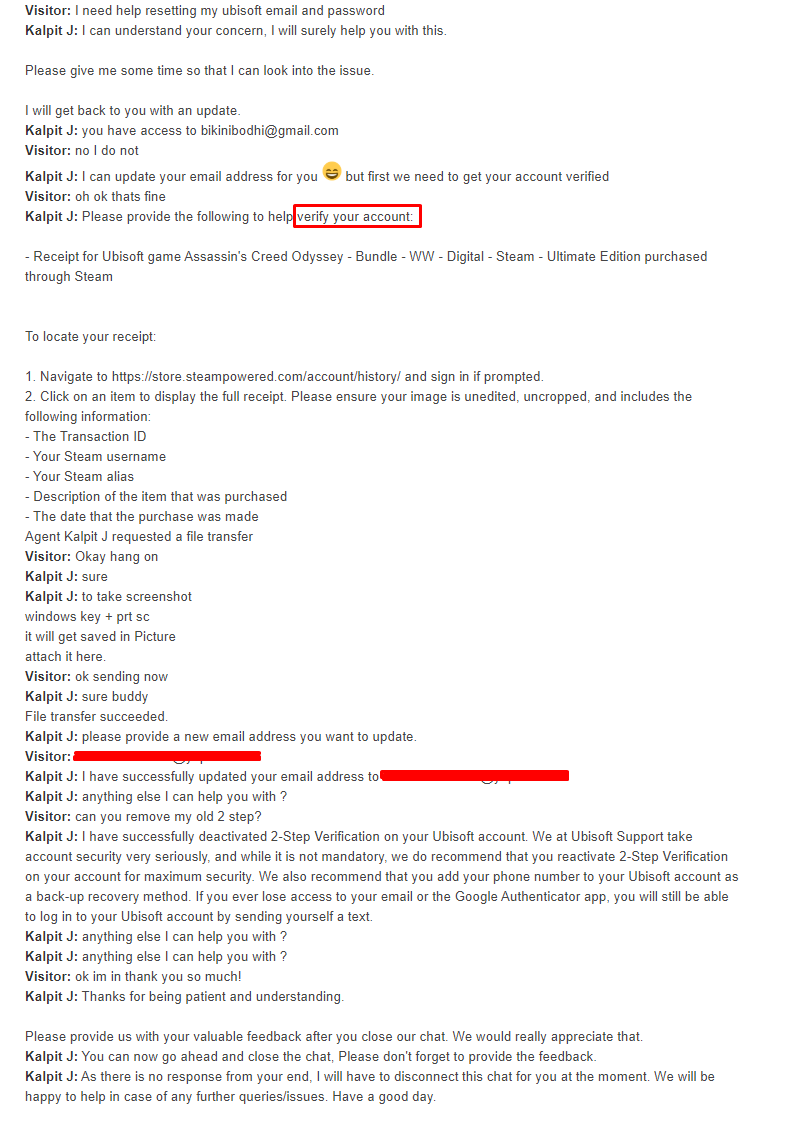 It took Ubisoft and BattleEye over 24 hours to get him unbanned and successfully recover his account. But at the time of posting the YouTube video, BikiniBodhi stated that he was finally unbanned.
This is not the first time something like this has happened with Ubisoft, which is why BikiniBodhi made the video to seriously raise this issue to Ubisoft and demand for a change. He also knew that he had the privilege to ask Ubisoft directly to unban him, a privilege most players don't have.
But this doesn't everyone should go and complain to Rainbow Six Siege developers and harass them. Instead the whole community should demand Ubisoft to hire better support agents and deploy better security system for Uplay accounts.
Read More: Rainbow Six Siege Fan shares new Concept for a Coastline rework