With the launch of Apex Legends season 6, it seems like Respawn is seriously trying to shift the meta into a new direction.
The recent buffs and reworks in season 5 really gave players a glimpse into what to expect next. And now in season 6, Respawn buffed all the recon characters who really needed it the most. For the first time ever, recon characters got the love they deserved expect Pathfinder.
While some old fan-favorite like Wraith is still an important part of the new meta in season 6, the old pathfinder and Watson meta is as good as dead. This should give players more incentive to choose new legends that they previously would have avoided. And also this tier is extremely subjective and should change every season with the addition of new legends.
S-tier
Wraith
Wraith has been at the top of every Apex Legends character tier list from day one. In a way, she is the face of Apex Legends. Very few Legends in this list have held their position at the very top, even after the recent nerfs to her tactical.
In season 6, Respawn decided not to change anything drastic about Wraith as she already received some rework/Nerfs back in season 5's Lost Treasures event. Even after all these nerfs, her portal is still one of the most effective ultimates in the whole game. Therefore, it is not surprising that she is still useful now in season 6.
Crypto
Even though Crypto was released back in season 3, players actually started to use this legend in season 5. Before all the little buffs he received, he was pretty much useless at mid to high-level Apex games. As a result, his usage rate was really low among all the other Legends in the game. However, with these new buffs, he is now an S-tier legend for sure.
Revenant
Revenant was released back in season 4. Initially, players avoided him because he was pretty underpowered. Back then Respawn liked to launch a new character in a pretty neutral state. Only after players shared their frustration with how underwhelming new legends feel, Respawn seriously started to buff Revenant. With the recent changes to his Ultimate's range alongside his tactical "Silence" which now has two charges, he is in a pretty good state right now.
BloodHound
Bloodhound finally received the S-ter status after the new season 6's balancing update went live. As Respawn finally gave recon characters huge buffs, characters like Crypto and Bloodhound became S-teir overnight. Additionally, with the ability of every recon character being able to scan the next ring's location via the survey beacon, Bloodhound's usability has skyrocketed in the game.
A-tier
Lifeline
Lifeline also received some rework/buffs back in season 5. Even before all those buffs, she was actually pretty decent in terms of balance. However, her new abilities like being able to revive two players at the same time have made her really useful in almost all stages of the game in season 6.
Mirage
Mirage's recent rework in season 5 really made the character click for many players. His usage rate among Apex fans grew as his utilities in the game saw some huge gains in a short amount of time. Players still can't get enough of this holographic trickster now in season 6.
Gibraltar
Gibraltar has been a part of the new meta since season 4. Although in new season 6 Respawn did give him some slight nerf. Even after that, he is now a pretty balanced legend. Additionally, his popularity has gone up. And his usage rate is now in a pretty decent stage.
Caustic
Caustic is in a really good place right now in season 6. Furthermore, he is mostly unchanged from season 5. As he received some good buffs back in season 5 that enabled his own teammates to not get affected by the NOX gas, his usage rate has gone up by quite a lot. And also his presence in ranked and tournament games is a good indication of what kind of impact he has now in the Apex games.
Rampart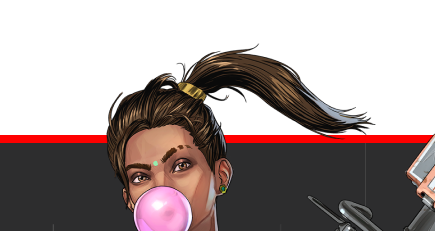 Rampart is the new legend that Respawn has introduced with the launch of the season 6. And for the first time ever, a new legend in Apex is actually pretty useful in ranked from day one. Her amped cover alongside her ultimate "Sheila" can be really useful at almost all stages of the game. Additionally, some pro players already think she has great potential in future tournaments.
B-tier
Bangalore
Bangalore has one of the most balanced kits in the arena. Not too overpowered not too basic. Although in the new meta she is just average. Even Respawn devs have agreed that she is in an OK state as of now. In season 6, she already received some slight buffs. She is definitely next in line to get some decent rework/buffs in the game.
Pathfinder
In season 5, Respawn decided to give Pathfinder a huge nerf. Now pathy has 35 seconds cooldown on his grapple. Even after that nerf players would still choose pathfinder for its ability to scan survey beacon for the next ring's location. Since that is no longer exclusive to Pathfinder, this friendly robot is no longer a part of the new meta in season 6.
Watson
Even though Watson has been a part of the competitive meta for a long time now, her public match usage rate tells another story. Her fences along with her ultimate have made her a no-brainer for pros in the high ELO ranked games.
However, in season 6, Respawn is seriously trying to shift the meta into a new direction with the recent buffs to recon characters like Crypto and Bloodhound. And as a result, players are now experimenting with more aggressive playstyle which is not good for a character like Watson who specializes in fortification.
C-tier
Loba
Loba made her debut into the Apex games back in season 5. Initially, she was pretty popular with the Apex community. However, as the season passed by, her popularity died down quite a bit. In season 6, Respawn did give her some buffs and have plans to do more in the future. As of now, she is just an OK choice for players.
Octane
Octane received some slight buffs back in season 5. Right now, he has the ability to use double jumps. In season 6, Respawn did some slight changes to him as he can now use Stim while healing, but stim will not remove the slow effect that occurs while healing. In public matches, his usage rate is rather high. However, his utilities are not that great in high ELO matches. Respawn might give him some slight buffs in the future to make his kits more useful in high ELO games.
This would seem like beating a dead horse at this point, but as with any other tier list, it is really subjective and only viable for the season 6 of Apex Legends. Respawn has already promised some changes as the season goes along further. This list will be updated in the future based upon the introduction of new Legends.